Infographics, from the words INFORMATION and GRAPHICS are the newest trend in sending out valuable information. It is not just cool graphics which capture one's attention, but great information that is easily understood.
Integrating infographics into your social media approach can certainly do wonders for your marketing effectiveness. The infographics compiled below are the ones we feel are the best for 2012.
Tip: Click the image to see it better.
1.) The first is the infographic of the leaders in Social Media.


2.) Next is the current standing of some of these leaders this year.

3.) This infographics shows the trends in social media for different industry.

4.) The next are some facts and general statistics of social media in 2012.

5.) This infographic shows the percentage of people with active social media profiles according to age and gender.

6.) Knowing and understanding the common social media habits of other people can certainly help you avoid any unwanted privacy uncertainties.

7.) Now, after understanding some common social media habits, it is equally important to know the significance of social media in the marketing mix.

8.) After understanding how social media became the new marketing channel, it is now time be familiar with some good monitoring tools.
9.) As you may have known, internet marketing is evolving constantly, so this checklist can help you stay up to date.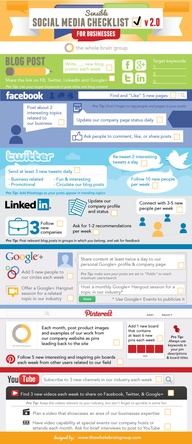 10.) And last but certainly not least, is an infographic of the new and rising sites which received a lot of buzz this 2012. Music lover will surely love this 🙂

That wraps up the list. Don't hesitate to send me your new infographics for 2013.
P.S. Please share this with your social media followers by clicking one of the share buttons above the post!