Twitter professes to have over 120 million users, but how many Twitter users are there really? To answer this question, one must first understand what a real user on Twitter needs to be doing.
I am breaking them down into 4 groups. You decide how many Twitter users are there really.
How Many Twitter Users Are There Really?
The Shell Accounts
First to answer the questions of How Many Twitter Users are there, users should be connected to other people, otherwise known as followers. According to the Twitter API data gathered by Silicon Alley Insider, only half of the 120 million users are following 2 or more people. Not much of a conversation happening there. Therefore, I call these users Shell Accounts and they should be thrown out entirely. So to determine how many Twitter users, that leaves 60 million left to examine.
How Many Twitter Users: Friends and Family Accounts
Additionally, only about 10% of Twitter accounts follow more than 50 people, or about 12 million accounts.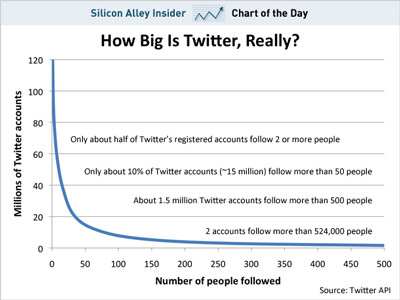 This could be considered the friends and family plan for Twitter users. Perhaps these users are the ones who follow a few, and then get bored or were never interested in the first place. They don't continue to follow and engage with other like minded people.
How Many Twitter Users: Marketers and Power Users
I believe the power users truly answer the question of how many twitters users there are. These are the folks that use Twitter daily, either as promotion for their content, and general conversation and engagement of followers.  According to Twitter, there are about 1.5 million users in this category. I believe this group is the real number of true users.
How Many Twitters Users: Super User Accounts
The chart shows there are only 2 accounts that follow more then 524,000 people. Clearly the users that are able to scale this high, since there is a ration of 120% following to followers, don't need to or choose to follow many people back. What is this percentage for you stats nuts like me…. .00000167%.
So, four groups. In a previous post we looked at the truth about the average Twitter user. Now, cast your vote below in a comment to decide how many Twitter users are there really.